Displacement and position sensors


Advantages LVDT
Absolute measuring principle (position always available)
Non-contact measuring principle, maximum service life
Very small linearity deviations
High repetition accuracy
Very high resolution with internal/external signal processing
Insensitive to external interference
Mechanically very robust against external influences
High protection class up to IP 68

We also realise customised solutions, adapted to the application areas by our own development and production.
Operating principle
LVDT stands for Linear Variable Differential Transformer. The LVDT is an analog and contactless sensor with one primary and two secondary coils. An electrical signal is generated by the linear movement of the sensor rod. The ferromagnetic core is attached to the sensor rod. The core induces a voltage in the secondary coils.
Signal processing
A measuring value amplifier or signal conditioner, converts the induced voltage into a standard output signal, for example 0-10 V or 4-20 mA. Here the measuring value amplifier can be integrated or supplied in an external top hat rail housing.
Application
From automation and process assurance to quality assurance in various industrial plants - our LVDTs are also used under adverse conditions, such as water, aggressive chemicals or high temperatures, in machines, plants, hydraulic cylinders and valves.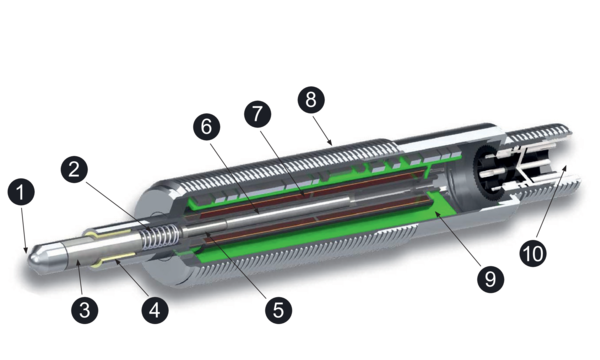 | | |
| --- | --- |
| | Hardened probe tip |
| | Internal spring as push-button design |
| | Armature: Core + Core Extension + Probe tip |
| | High-quality and maintenance-free sliding bearing in protection class IP65 |
| | Core extensions |
| | Core |
| | Coil former with primary and secondary winding |
| | Stainless steel external thread mounting (optional M12) |
| | Integrated measuring amplifier |
| | M12 plug connection (optionally with ready-made cable) |